When

 

young photojournalist Kaung Swan Thar discovered the living conditions of about sixty families in the downtown area of his city, he decided to do something about it.
What motivated me to start this project was the amazement and shock I experienced when I stepped into the place I describe here. I found out about these shelters, located by the Yangon Railway Station in downtown Yangon, when watching a documentary on a DVB channel. I was very curious about them and wanted to find out more. The place is downtown, right next to the Yangon Railway Station, which is the largest train station in Myanmar.
There are families who live in small spaces in the staircase area under the dormitories/rooms occupied by the employees of the railway station. I was shocked to find out that in a city like Yangon there are families living in spaces which are
10 feet large, and only 3 feet height. I never thought that there would be people living this way,
even in the middle of the capital city.
With a passion for photojournalism, I decided to document the stories of the families living in these spaces. I knew it would not be easy to be allowed to take photographs of the spaces and their inhabitants. They would see me as an intruder in their private lives. I needed to earn their trust. So I first tried to talk with the children, to make friends with them.
Then I introduced myself to their parents. I asked for their permission to record their living style. I slowly came to understand a bit more about their situations and their lives, and was granted permission
to take the photographs, some of which you can see here.
These spaces are leased by the railway employees to other people to make extra money. The people who rent them are usually manual workers with temporary jobs and very low income. The shelters are for them a convenient place because they are located in the downtown area of Yangon, and living there makes it easier for them to find daily jobs.
The rooms have only one entrance and no windows. To enter into these rooms, one has to grovel. They are always dark, even during the daytime, because no light can enter from the narrow entrance. Mosquitoes are hovering everywhere.
The people who live here always look forward to getting some electricity, so they can turn on a light bulb and avoid being bitten by the mosquitoes. For the children, the space in front of the house is their toilet. To get the water for shower,
they have to go to the water pipe shared by the whole ward and wash in front of the house. Some of the children are suffering from polio and other diseases due to malnutrition and lack of vaccination.
Over sixty families are living in such conditions. The monthly rental fees start from 30,000 Myanmar Kyats (equivalent to about $20 dollars). If they cannot pay the rent on a monthly basis and they have to pay 1,500 Myanmar Kyats (about $1 dollar) per day. The lease contract is not written, but based upon a verbal agreement between the landlord and the tenant. If the tenants do not keep a good relationship with the landlord, they may be kicked out of the rooms at any time. The people who live here, though, do not want to move out because the location, being in the downtown area of the city, is convenient and makes it easier to find jobs.
When the photographs were exhibited at the 'Building Bridges - Yangon' show last July, inside and around a mockup shelter the size of the real shelters, people were surprised and shocked like I had been when I first saw these places. We have discussed ways to help to support these families and their lives. We are a developing country and people in need still cannot get enough support from our public institutions.. I warmly welcome any organization that would be willing to offer their support, and will be happy to take you there in person.
------------------------------------------------------------------------------------------------------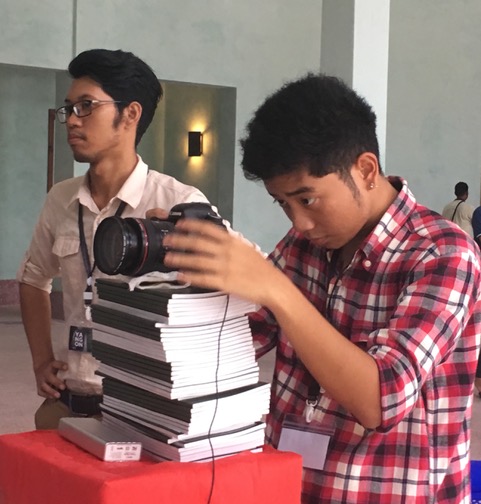 My name is Kaung Swan Thar. I am 22 years old. I am a student, majoring in History, at the University of Distance Education, and I'm working as a Yangon based freelance documentary photographer. I've discovered my passion for photography at the age of 17, as I got a  chance to take photographs with a friend's camera. I've attended Documentary Photography workshops held by the Institute Française de Birmanie (French Institute of Burma), and started my career as a photo journalist at Popular News Journal in 2016. During my time here I've presented works as photo essays of demonstrations, conflicts, state ceremonies and breaking news. Currently I'm working as a freelance documentary photographer, and shooting photos for my own projects.