EAS artist Pebofatso Mokoena, from Johannesburg, South Africa, talks about his experience at the Kooshk Residency

in Tehran, Iran, 

in February 2018. T

he residency is part of a South Africa - Iran exchange program aimed at promoting international dialogue and art creation.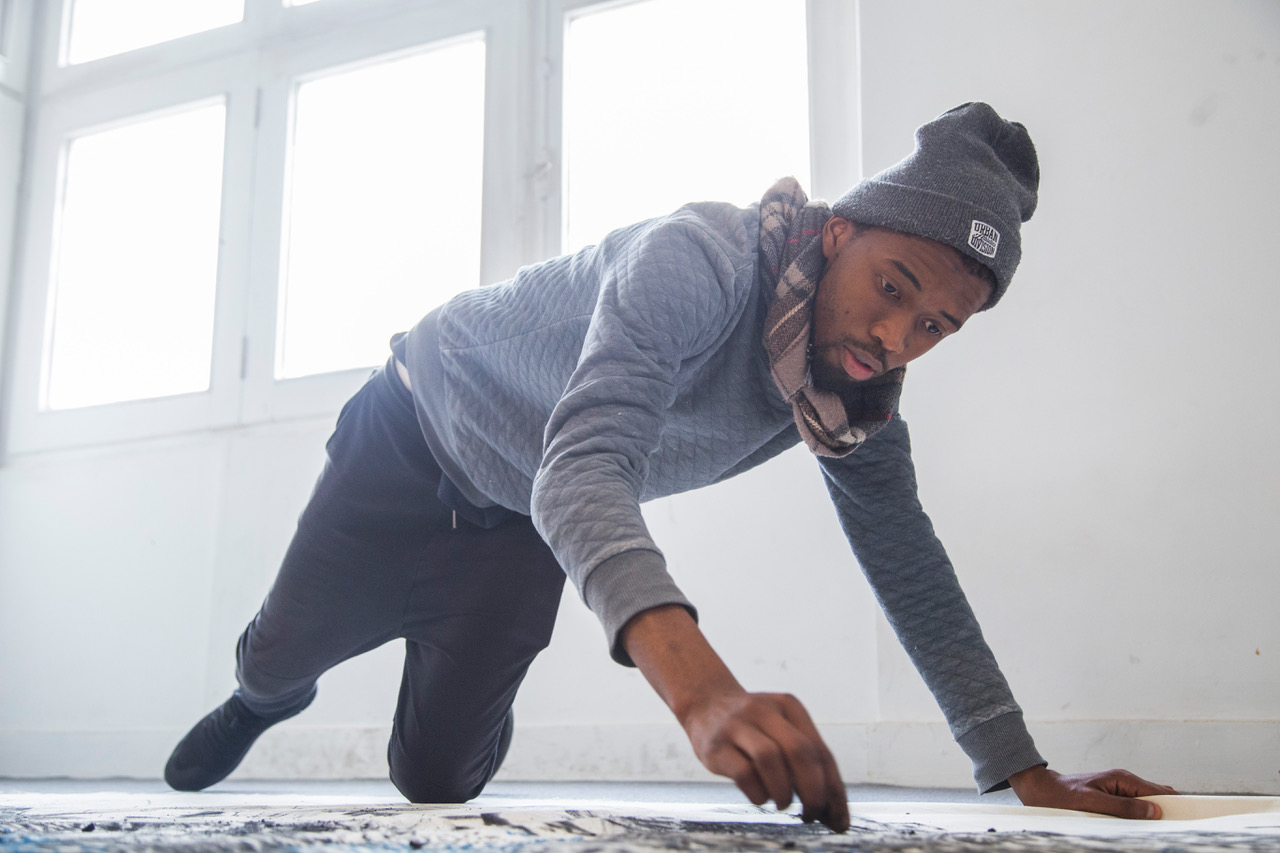 What motivated you to participate in this residency?
Oftentimes I've wondered about how the world operated outside of Johannesburg and Cape Town culture-worlds; you know? the main art centres in South Africa.
I began imagining how people lived in and out of certain contexts. How would it feel when the geographical walls from underneath and around you are moved? How large, really, are the culture chasms between spaces of myself and spaces of the Earthly domain?
There were some answers I knew. Some, I had to retrieve outside of my immediate context. The Most High heard my calls, and so the opportunity came for me to travel to Tehran on my first international residency - and I thank the Almighty for that moment.
The people at home were worried for me, for obvious reasons. People were telling me "Be safe. We see things on CNN, and on the internet, seems like it won't be a kind space at all." Others were shocked I was even going to Iran, others wished me an amazing adventure. I had mixed feelings when I boarded that aircraft.
How would you describe the residency experience, your goals, what you learned and its impact on your work?
Kooshk prioritized open-endedness, and was process driven in its outlook. Experimentation in relation to work, was primary. Discovery followed, and learning took its course.
The duration of the residency was a month, and it offered me the chance to explore fundamental enquiries about my artistic practice and myself as a human being (enquiries which had been bugging me for the longest time), enquiries in relation to spacial dynamics in between places, time zones and ecological phases.
My plan for the residency was to paint, but in conversations with Keiman, former program coordinator, we worked through content and concerns, and how that would form the basis of the physical work. Unexpectedly, charcoal became the medium best-suited to engage my concerns, relative to the experiences of where I was at the time - I could draw as quickly as I was thinking. As for painting, I will do so during my stay in Zimbabwe.
Working in a collaborative environment with mavericks like Danger Gevaar Ingozi print studio in Jo'burg, the studio in Tehran became an important axis of learning for me. My work traversed many planes - my history with depression as a young'n, breaking through those obstacles with support from family and friends, understanding rest and activity, and living as a revelation.
In the same breath, I was extremely fortunate to share a 4th floor studio (in the center of the city) with Asanda Kupa, from eMolteno, listening to Johnny Dyani, Mick Jenkins, Simphiwe Dana, Erykah Badu, Bonobo, Taiwa Molelekwa and the like, with some city traffic for good measure. We were able to sustain healthy conversations and helped each other grow. I am thankful.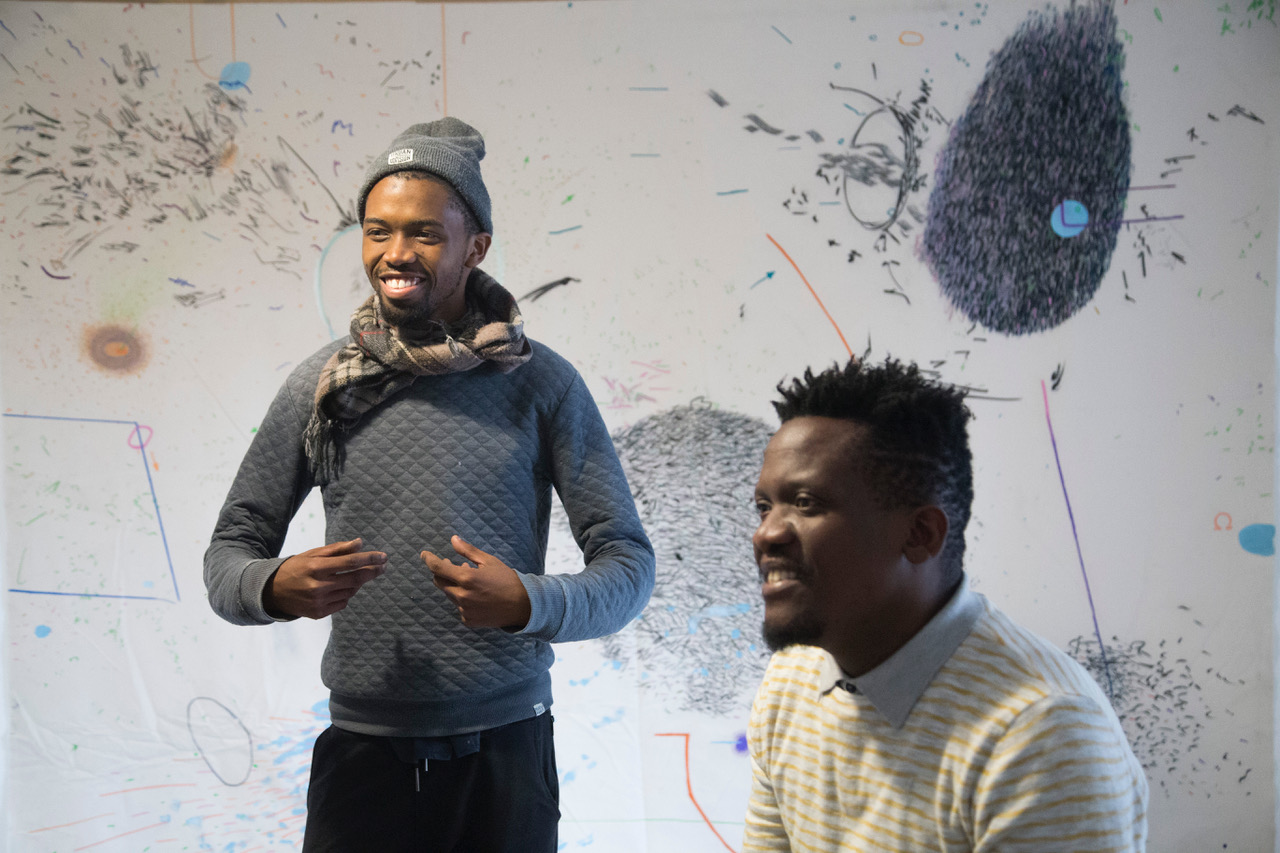 There were a multitude of artist platforms and spaces, which lent themselves to a variety of exhibitions. From the orthodox, to the not-so-orthodox, to the digital and everything in between - noting that everything is almost always curated somehow (smiles). The highlight was witnessing the retrospective of Ali-Akbar Sadeghi at the Tehran Museum of Contemporary Art. My painting gears eternally shifted. I was blown to shreds.
Back at the studio, I began engaging in the fundamentals of drawing - space and time. The global environment became an entire situational play which played out on multiple platforms geographically, technologically, socially and physically - and, of course, Iran was part of the play. I began engaging in the meditative practices of image-making. I concentrated on space (in this case, canvas) as a "real" drawing surface, on drawing as a conceptual model of understanding geography, and on geography as a space of understanding movement - I was searching for new "cosmologies", if you will - I haven't finished looking for them though.
These experiences became a foundation of understanding eventually - what it means for me to be human, particularly in a world where we all see the distractions, impulses and magic. In relation to working practices, impulses such as Sir David Adjaye's architectural engagements, forces of nature, geographical access and Jupiter's Great Red Spot, somehow began finding pathways into my work on canvas - even though their structural geographies are far apart. Temperature Rising, in particular became an elegant piece of work, but still violent in its poetry - a personal anecdote in between life and rest.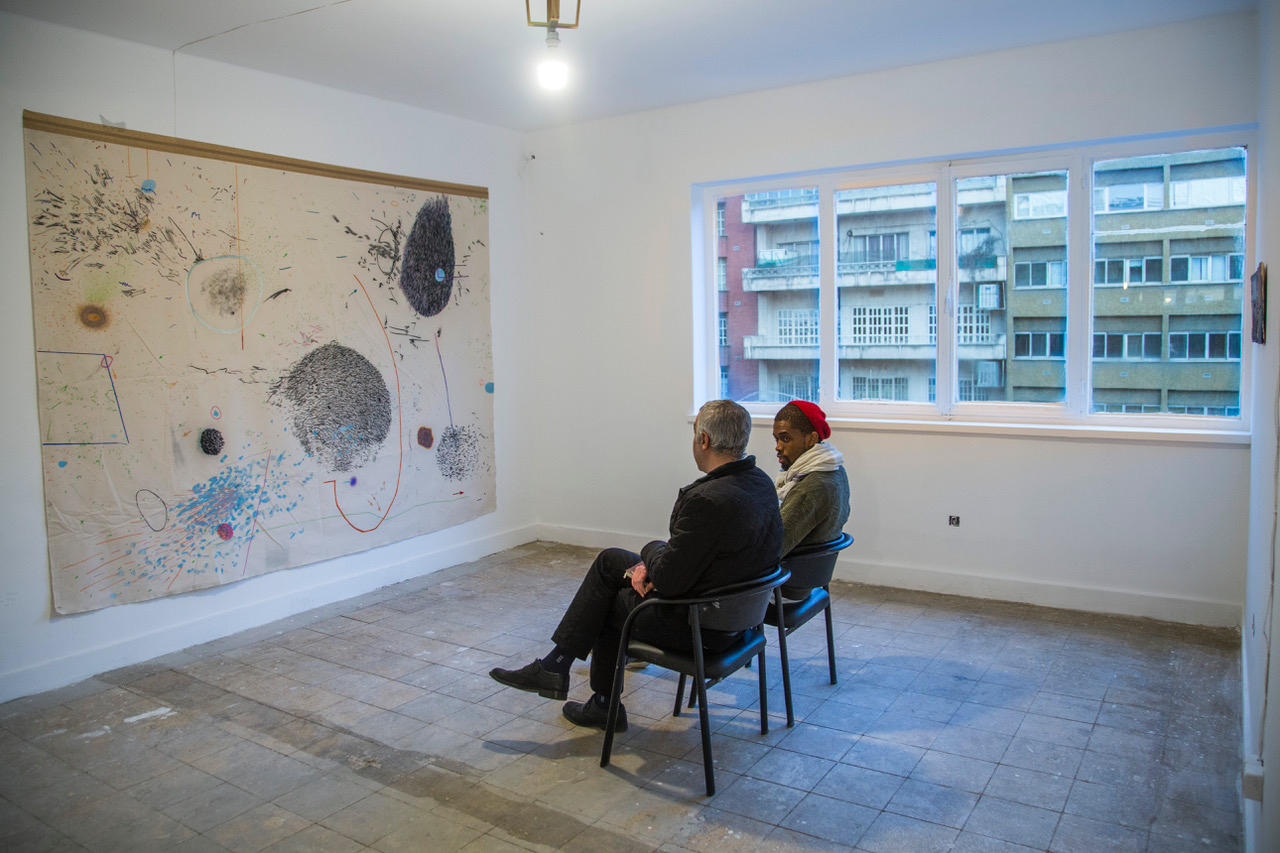 There was a point in time of the residency where colonial baggage became too heavy for me to bear, in the studio. I de-focused off of it for that moment, allowing me to engage in new quantum, in new lights. The results were a deep engagement with the self in relation to the growth of myself - a total treasure.
Do you have any advice for EAS artists in pursuing residencies?
I'm nowhere near that level where I can say "okay, kids, lesson number one is this!" (laughs). I'm still uncovering my lessons. I realize that artists' careers, in sustaining their family and lives, are crucial, and should not just be taken lightly; artists should not be taken as "face value matrix tokens". True support goes beyond the locale of the financial, particularly for previously disadvantaged people in general. I can't speak on behalf of anybody else, but for me - winning is not a competition. Winning is succeeding through obstacles which prevent you from being the best possible version of yourself. I know this is cliché, but I got to meet amazing people and the city was remarkable in and of itself.
Spoiler alert! I won't spoil all the surprises - let the geographical walls from underneath and around you fall to the wayside.
----------------------------------------------------------------------------------------------------------------------------------------------------------------
Pebofatso Mokoena is an artist living and working in Johannesburg, South Africa. He completed his tertiary education in Visual Art from the University of Johannesburg in 2014, specialising in drawing and printmaking, and he is now working in a number of different media, including painting, charcoal and sculpture. Born in the time of South Africa's transition to a democratic state, Pebo's work is a re-imagining of complex contemporary social questions.