Four young London-based artists' leap into the world of professionalism with the planning and development of their own group exhibition, 'Counterfeit'.
Early in the morning, I peer through my computer screen into a small bright space with white walls, where four young smiling faces huddle around to fit into their afternoon picture. The image freezes and our jokes crack, as we try to brake the digital ice and bridge the time difference between us. Slowly, the conversation picks up speed and I begin to gain a sense of this group, their energy, close-knit relationships and ideas.
I am skyping with Amelie McKee, Ambar Quijano, Heyse Ip and Florentine Ruault – four London-based emerging artists, all on the verge of graduating from Chelsea College of Art. Over the last year, they have been collaborating for their most recent gallery show: "Counterfeit" – which could be seen from the 6th to the 17th of March 2018 at the Bermondsey Project Space.
While coming from very different practices and backgrounds, a year ago, they identified the idea of "counterfeit" as an intersection of their interests. "Our work isn't something that is completely fictional, but neither is it real" Heyse explains. "it's got this sense of in-betweenness. It exists in a separate realm. Being kind of fake but almost passable as real… The word counterfeit isn't normally used for art. Unless it refers to faking a painting, or something that creates monetary value. In our case, it's more about other sorts of values we can falsify or play around with… Peoples viewpoints of these different types of information."
Coming together and developing the Counterfeit project
As first-years at Chelsea, Amelie (b.1996, France) and Ambar (b. 1995, Mexico) bonded over their "love for making things", including welding and constructing their own kiln underneath a bridge at the Thames river side. It was here that the Thames' many myths first triggered their joint fascination for storytelling and media representation. Especially one tale intrigued them: The massive media coverage and contradictory reports on a whale that was stranded in the Thames and died. Their work 'Replicas of Bio-structures' plays with these different versions of truth and media representation, as well as incorporating "real" and "false" found objects from the Thames riverbed.
Through the frame of the Skype image behind the four artists, I glimpse another quite deceiving sight. An image, that were it not for its wooden stand, almost appears as another smaller room. It is one of Heyse's (b. 1997, Hon Kong) "Model Models": a large photograph of an architectural model, void of all detail. As Heyse puts it, his "standing sculptural images", aim "to create an alternative empty space"
Florentine (b. 1996, France) explores a very different kind of alternate void. By photographing cities of the world, stripping them from all color and culturally relevant detail, she produces digital drawing in black and white, drastically exaggerating as well as revealing the homogenization of urban landscapes.
Making the Exhibition
I am fascinated by this passionate bunch. As young artists on the verge of graduating, I ask how they brought this exhibition into life, outside of the familiar university structure.
Florentine describes the struggle of finding a gallery space: "We basically divided all of London into four sections. And then we made duos. We walked around each neighborhood, each gallery. We talked to people, got email addresses, sent out our proposal. And I think the first thing that we realized was that it wasn't that easy. Because galleries were booked for a long time. Often a year in advance. And we wanted to do our show in four months. I think through this process, we all realized what such an exhibition entails to do". To tackle time pressure and wide range of seemingly never-ending tasks, the four learned to work together as a team, splitting tasks on administration, the catalogue, the search for sponsors... All four describe the intense bonding experience, that taught them the most about each other's backgrounds, needs, goals and ideas. "We were all very emotional and demanding about what kind of show we wanted to put on. It was not something we were going to hold back on." (Ambar)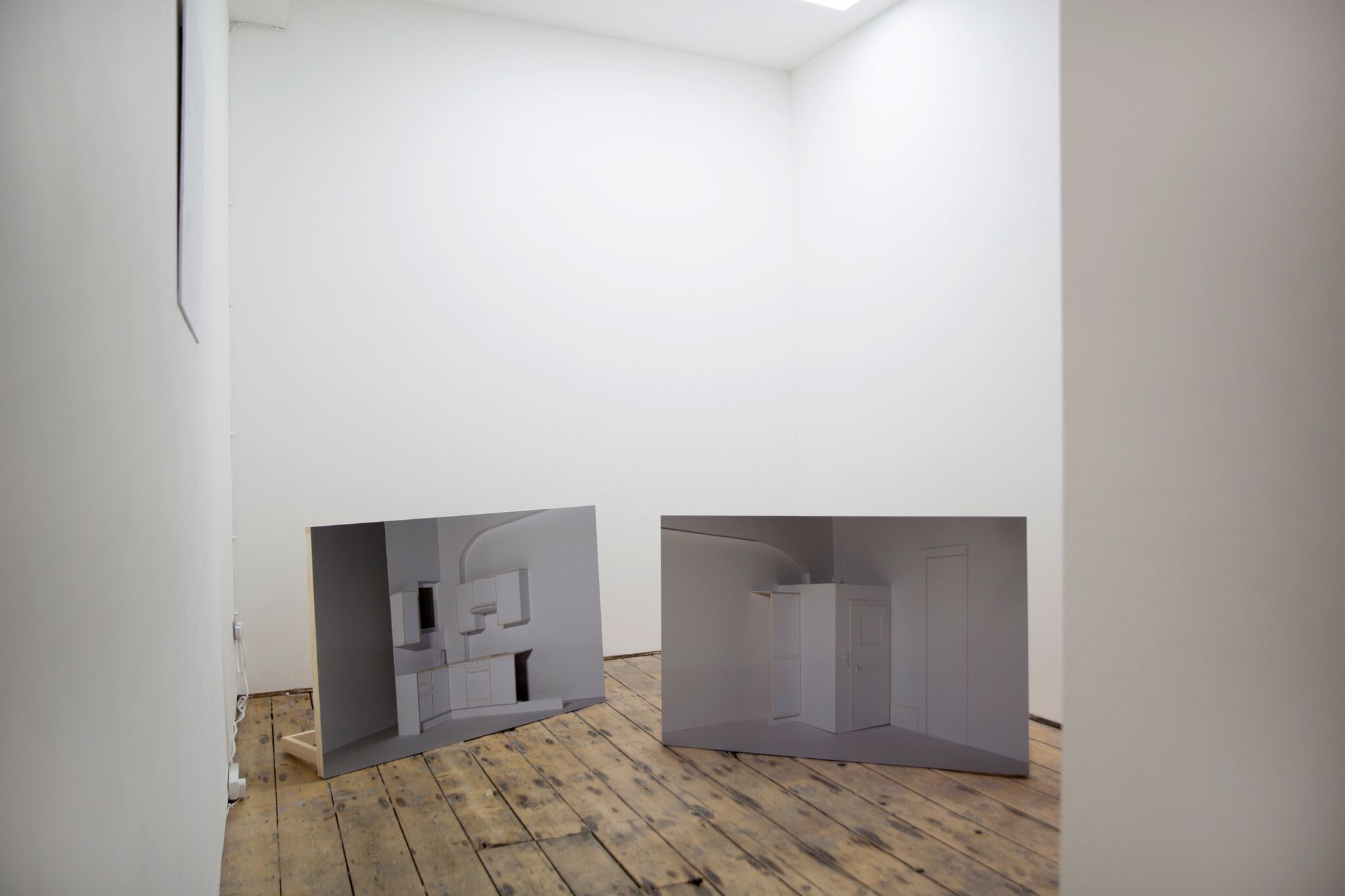 A main goal and challenge for the group was being able to create "something that would have some longevity." Amelie explains. "A lot of shows that happen in London, especially with people our age, are just on for a night, maximum a day, and then the show comes down. That does not allow you to meet a lot of people and have conversations. Have people see your work over a longer period of time. It was important to us to do something that we felt had a bit more impact. And wasn't just a night with drinks."
Finding sponsorship for such a project wasn't easy and spurred fundamental questions about the sustainability of art and their careers. "That was a moment where we were weighing our financial options. What do we compromise on and what not? Should we get a job to finance the exhibition? But then, I think that's one of the struggles you have to face as an artist: Do you find something else to sustain something that is not auto-sufficient? The idea was quite frustrating. Because we all work a lot and put a lot of energy into what we do. We really want to do this. But at the end of the day, there's only so much you can handle." (Florentine)
Thanks to persistent outreach, the four were able to partner with the Bermondsey Project Space, a non-profit gallery in the heart of London's art district, just a block from the well-known White Cube gallery. They even managed to collaborate with various sponsors to cover the cost for rent, the exhibition catalogue and drinks - an empowering experience for these emerging independent artists. "Creating this exhibition helped me a lot. It's changed how I perceive my work and how I perceive Amelie, Ambar's and Heyse's work. And also, how I see my future. I used to be scared about what was going to happen after graduation. Because it seems to be this emptiness of I-don't-know-what-I'm-going-to-do. This experience made me feel more secure, because it proved that we can actually do something. And we don't have to wait for the art industry and whatever institution. We can do stuff ourselves." (Florentine)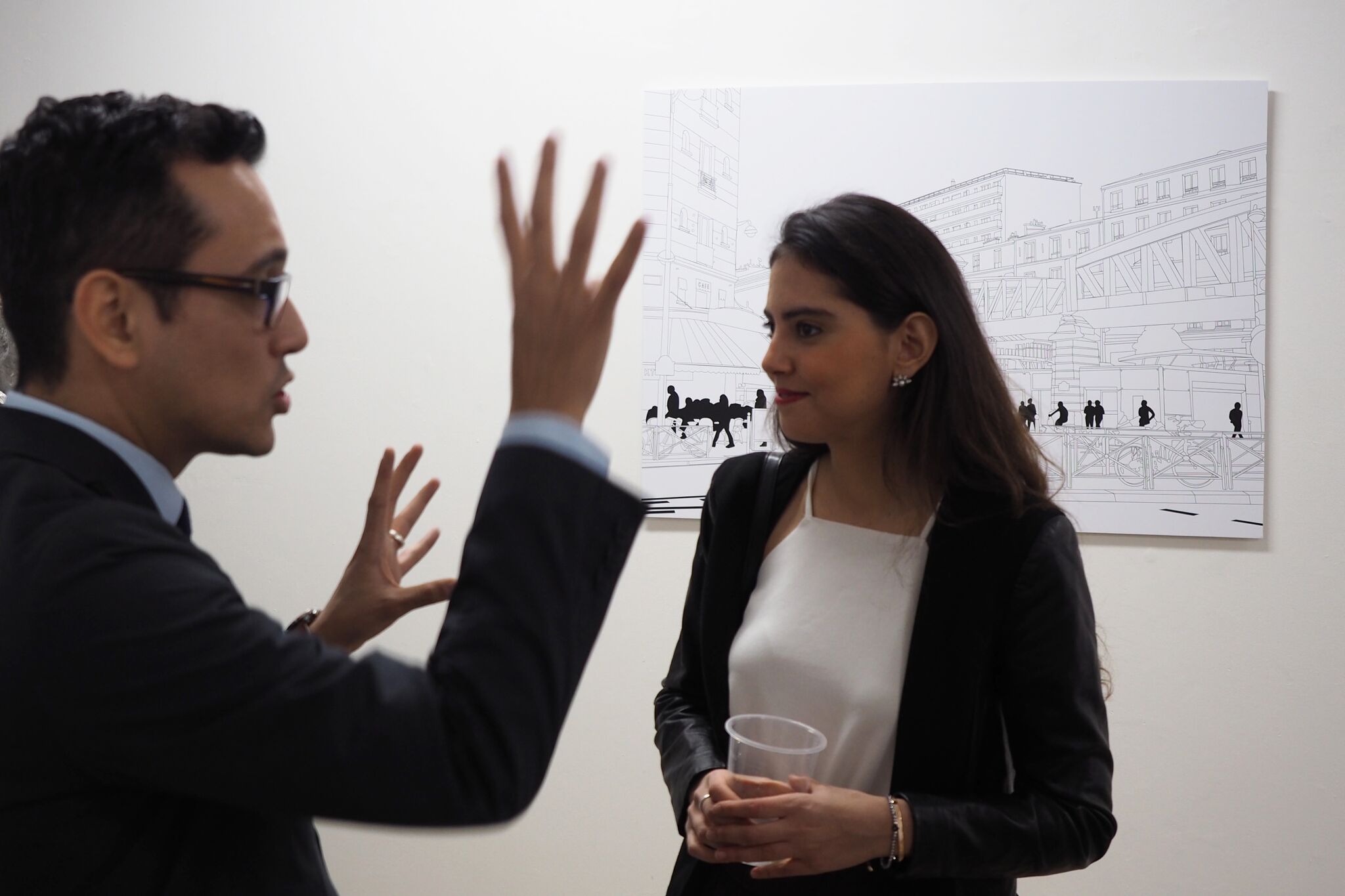 After a year of work, many challenges and breakthroughs, Ambar, Amelie, Florentine and Heyse were ecstatic to finally be able to share their work with family, friends, teachers and the broader public. The opening night of counterfeit was a great success. "People we didn't necessarily expect showed up. It felt like a really warm atmosphere." says Ambar. Amelie reflects on the importance of being able to exhibit their work in a physical space: "I think nowadays sharing our work on Instagram and our websites, we get responses, and then people will comment. But I think what this type of view gave to me was that conversation and more time in front of the work, one-on-one. It felt like people loosened up a bit. It was more informal. And not only Florentine, and Heyse and Ambar, and I connected, but we also managed to bring together other people. That was my gift from the exhibition."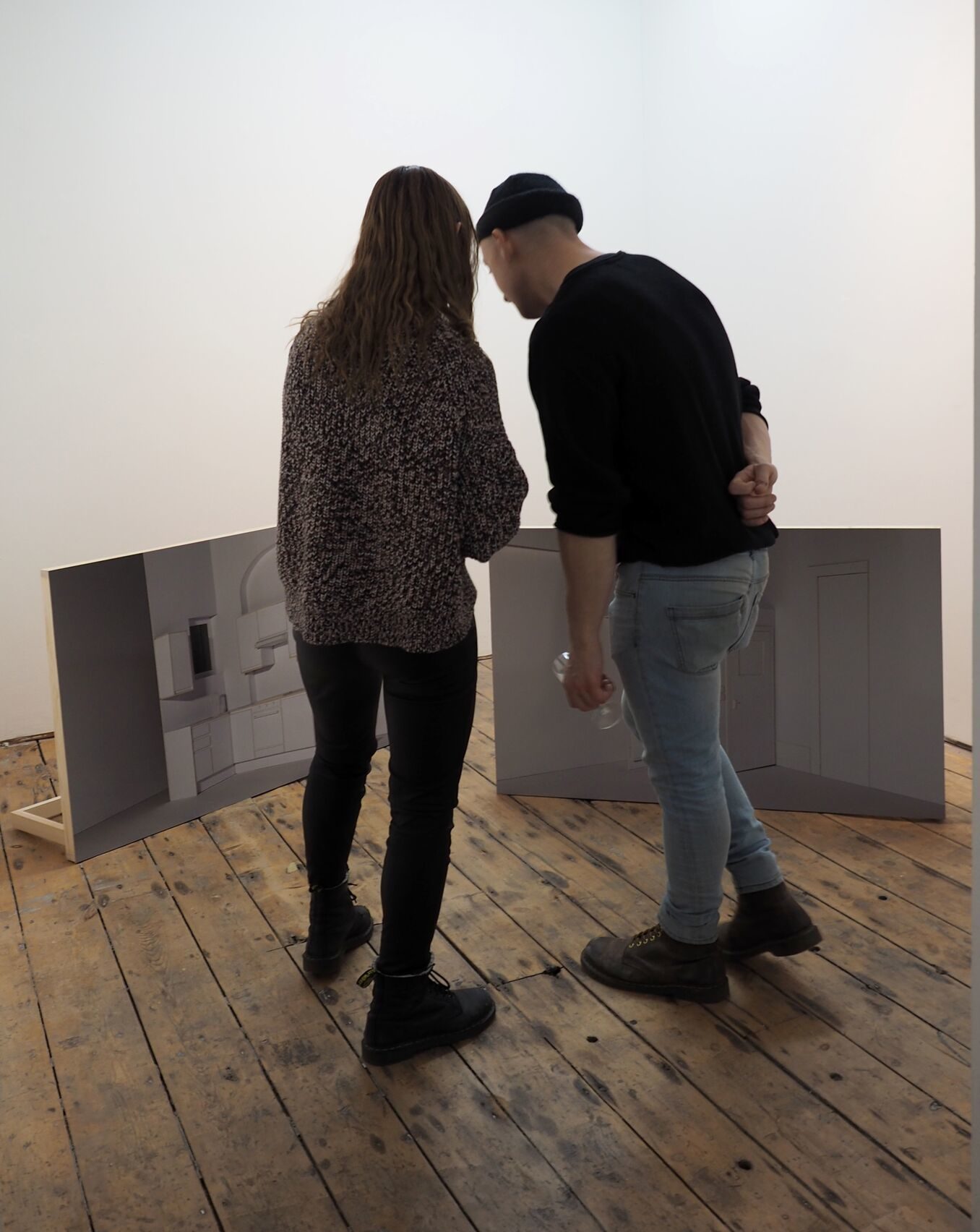 Concluding Thoughts
After an hour of lively Skype conversation, I close this window into one of London's emerging art spaces. I am impressed by the perseverance and level of reflection of these four. Congratulations on this major project. We hope to see more from you soon on EAS!
To learn more about the artists' work see:
Heyse Ip: @heyseip
Amelie McKee: @amelie.mckee
Ambar Quijano: @a.quijano.a
Florentine Ruault: @florentineruault
Vivien Ahrens

, a young writer and reporter for Emergent Art Space, is a cultural anthropologist from Munich, Germany, now working as an educator in Madison, WI, US.