'Cone Room', and 'Like Second Skin, But Too Blue', 2015: A two step, two part project by Kaori Freda which deals with religious experiences and the revisiting of adolescence memories.
The manner in which I interact with and interpret my surroundings through visual mediums has been profoundly influenced by my adolescent exposure, in my family, to the Unification Church, a Korean cult led by Reverend Moon, a man who proclaimed himself to be the next Messiah. It is a religion that arranges mass marriages in football stadiums, intense fundraising by church youth, and self-flagellation at the training center.
The church elicited alarmist media coverage in the United States in the 1970s and '80s. Deprogrammers were hired by worried parents to free their children from the brainwash they were subjected to by the cult; my grandfather hired such deprogrammers to kidnap my father, although he failed in his attempt.
Towards the creation of this body of work, I received a fellowship and a grant to revisit their "Holy Shrine," or the Cheong Pyeong Heaven and Earth Training Center in Gapyeong, amidst the mountains, near Seoul, South Korea. I conducted my research in person at Cheong Pyeong in the winter of 2015.  There, I made rubbings and video-documented daily rituals that the pious carry out to ensure the purity of their lineage and passage into paradise.
The documentation I brought back informed an immersive site-specific installation which filled my entire studio with 23,000 cones, a silken waterfall, and a series of silk scrolls rendered with ink and encased in plexiglass.
The project is called Enveloped by Korea, and allowed me to address my repressed past, render my memories into relic form so that I could meet my ghosts, and finally, accept them.
When it comes to religion, there is conflict and confusion all around. Every person has their faith. In a way, I suppose, I am grateful to this church, for without it my parents never would have met. This project was incredibly meaningful for me as a cathartic way to communicate with my past, productively channel confusion, process external stimuli, and form my own environment as a departure from my religious upbringing.
After completing the project at Cheong Pyeong I went to Seoul to study the phenomenology of holy spaces espoused in Korean Buddhist temples within the cityspace, and spent time at Myogaksa Temple.
Like Second Skin, But Too Blue poses Buddhist and Unification iconographies at odds with one another. The composition contends with the conflict between religious iconographies from the Unification Church and the Buddhist temples in Seoul's city center.
Like Second Skin is one part of the larger body of work that contends with issues of memory situated in a holy space that I once accepted, but now repulse. The work projects a faint shadow, dancing upon the wall behind it. Roiling and rippling yet suspended within a narrow perimeter, the work's movements evoke those inner turmoils which haunt the psyche. This scene cinematographically repeats itself over a length of silk, a medium which so closely resembles skin— that which drapes and enfolds body, mind, and memory.
The bodhisattva patterned within the composition finds its origins on the carefully preserved wall of a temple perched on the side of a mountain, while the architectural brutalist landscape is sourced from Cheongpyeong's grounds. Momentarily frozen in rendered line, gods war amongst themselves. A bodhisattva gestures at a peculiar trio of religious bodies emerging from a celestial portal, set against a background of dancing dragon heads. United, these three deities floating side by side represent the Unification Church's syncretic origins, with representatives from Buddhism, Korean culture, and Christianity.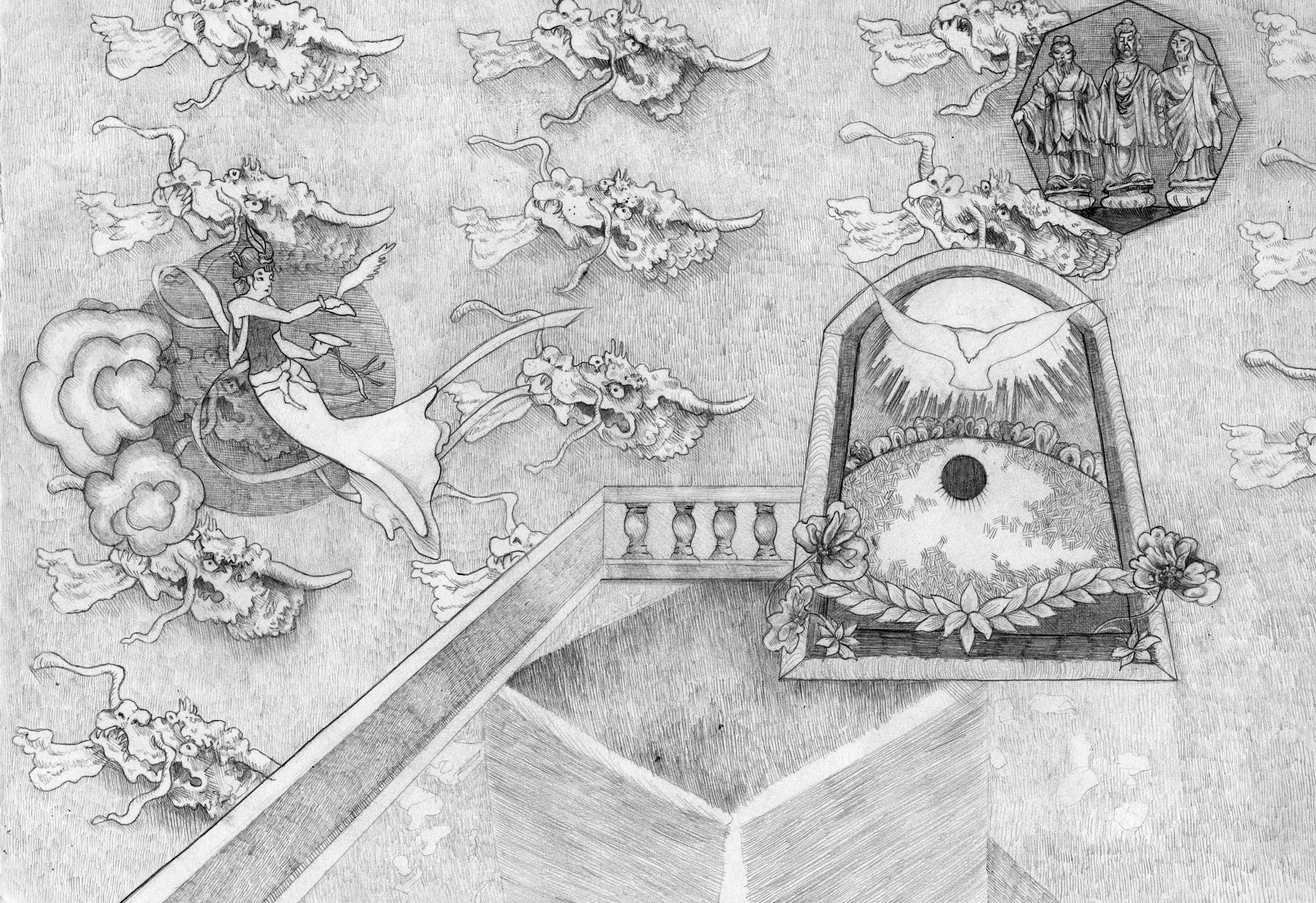 I reasoned that these two intense experiences, completed within quick succession, would effectively negate the other's influence on me. Thus, Like Second Skin, But Too Blue mirrors this peculiar balancing act between two religions. Yet it is also revealing that the attempt was not entirely successful: the brutalist banister dominates the center of the composition and throws perspective to the winds; the dragon heads sneer while they liltingly dance to the west, and bodies emerge senselessly from a gaping hole in the sky.
(I wrote 85 pages on this topic for my senior thesis at Reed College. If you would like to read more, please email me at kaorihannah@gmail.com for a copy.)
This project was funded by The Reed College President's Winter International Travel Fellowship & The Reed College Initiative Grant.
Kaori Freda is a multimedia artist and recent graduate from Reed College, Portland, OR. Her work contends with issues of religious grounds, the effect of memory upon spatial relations, and tends to lean towards illustrative design or mediums including casting processes, humorous sculpture, and assemblages. Kaori currently resides and works in rural Japan.