Indian artist, Parul Sharma, investigates the physical and psychological complexities of distinct urban spaces through, drawing, sculpture, and stop motion video.  Here she shares with us her inspirations, practices, and unique artworks.
---
ARTIST STATEMENT
---
Since my childhood, I have been living and commuting in Delhi. While roaming around, I began looking at different architectural spaces, their patterns, construction, complex structures and urban environment. These urban geographies are fascinating to me, to the point where they have become the source of a visual vocabulary for my art practice. I am exploring questions of interaction with these architectural spaces to understand what kind of impact they create psychologically, as well as physically.
I am trying to simplify the forms of architecture and break them into simple geometric shapes. I am inquiring about the interrelation between the lived spaces and moving bodies through urban environments.  I am interested in how an individual perceives lived spaces and how one achieves peace in this process of commuting in the everyday life of the city.  I explore different mediums, like drawing, painting and stop-motions in my art practice.
I am inspired by Jaipur fresco technique. This involves thick layers of pigment being applied and worked onto a wet plaster surface. I use materials like white cement, Badarpur sand, lime, marble dust, iron wire, and jute on the surface of MDF wood. Engagement with this process has increased my understanding of working with these materials and helped me in developing many layers of paint. Applying this technique in different ways with these materials that are related to construction and architecture helps me to create the city's atmosphere.
My art practice is inspired by my experience of roaming the city and discovering its architecture. I love to explore complex architectural structures and patterns. I did the artwork 'Seemapuri' and 'Essence of the City' during the lockdown of 2020. I lived in Seemapuri which is a very chaotic and dense city. I learned what makes up the complexity and captured it through the charcoal drawings from my terrace where some forms also responded to the sounds of my immediate surroundings. I started capturing the 'Essence of the city' with the wired drawings and photo documentation, subsequently making a stop motion video from the photographs. This built a new understanding and questions related to how Seemapuri, as a city, is different from other cities and how its architecture varies from other cities of Delhi.
This project was part of the Khoj Studios support program and was displayed at the Onkaf gallery in Delhi in 2021.
---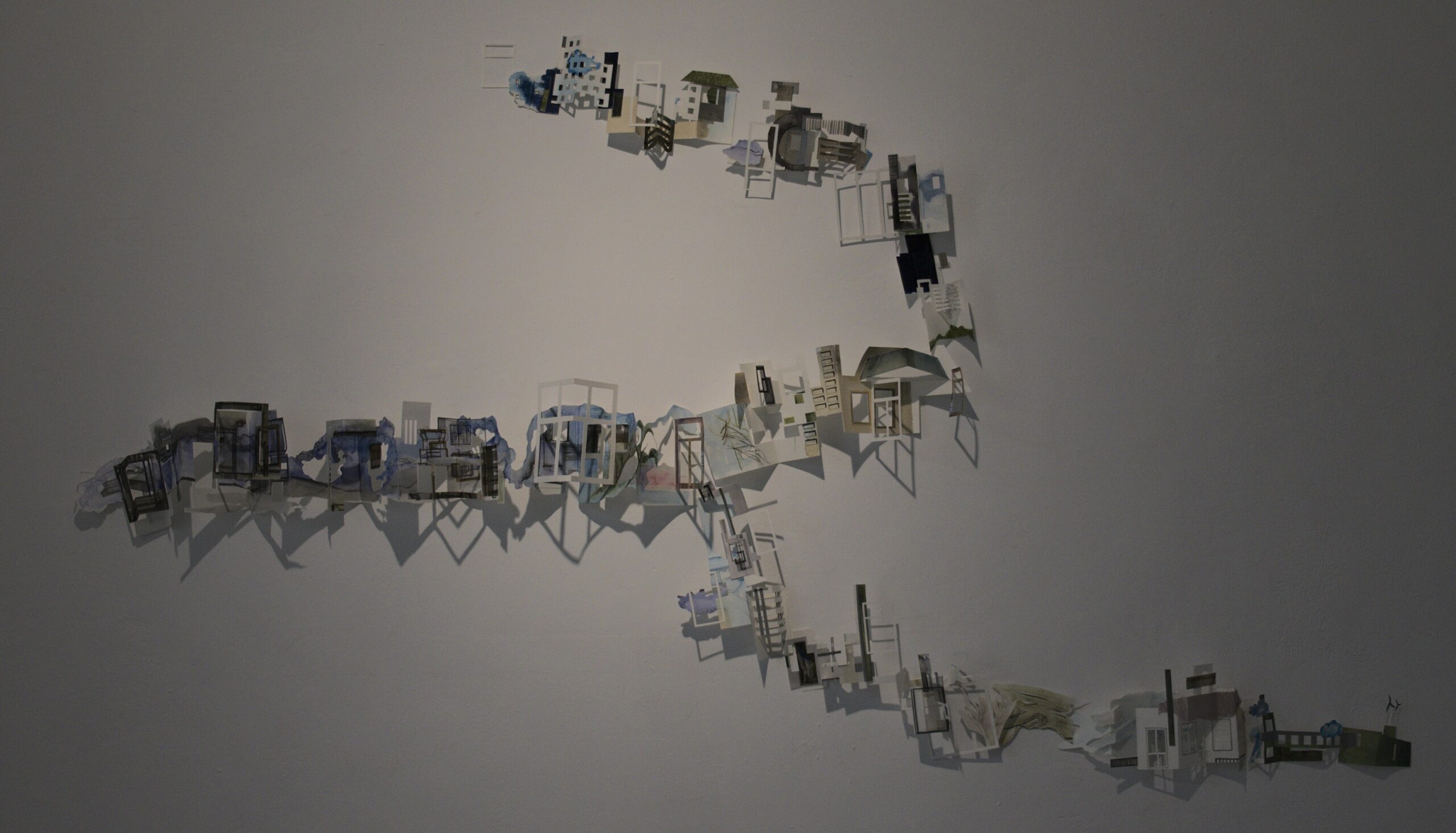 Whenever I roamed in Delhi, I had a mind map that I followed exactly and reached my destination.  In Hamburg, my experience was different. Whenever I followed my map and mind map in Hamburg, I always got lost and found new things. This artwork is the mind map of the spaces around FRISE AIR studio which I used to visit daily in the city of Hamburg. I started this artwork in Delhi and completed it in Hamburg. This mind map is an experience of getting lost in and exploring the city of Hamburg. The artwork was part of the FRISE artist residency and solo show in Hamburg, 2021.
---
The work is about how I physically and psychologically interact with the architectural space when I roam in city. The structural forms bring forth the chaos and order simultaneously within a single frame, showing the continuous development and construction of the city. Dealing with iron rod structures is a challenge, as is working on a large scale, engaging a generally stereotypical masculine approach.
---
Here I explore the connection between processes, materiality, mark-making and architectural space.
---
---

ABOUT THE ARTIST
Parul Sharma is an Indian artist. She completed her MFA in 2020 and BFA in 2018 from the College of Art, Delhi. Her art practice is inspired by roaming and investigating the architecture of  cities. She explores the question of interaction with the architectural spaces around her and what kind of impact they create psychologically, as well as physically.