By Liz Janoff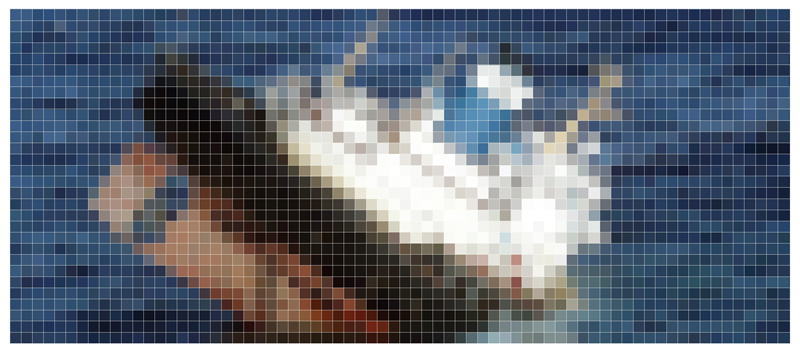 Rubén Oliva Ros is an artist, curator, and freelance graphic designer living and working in the Canary Islands, Spain. He works primarily in drawing, video art, and digital collage, examining contemporary relationships between art and digital image making. He recently completed a Fine Arts degree at La Laguna University. Visit his blog here.
Artist Statement: I am interested in Illustration, concept and relational art, and searching for a field between theoretical and formal ways of making artistic projects.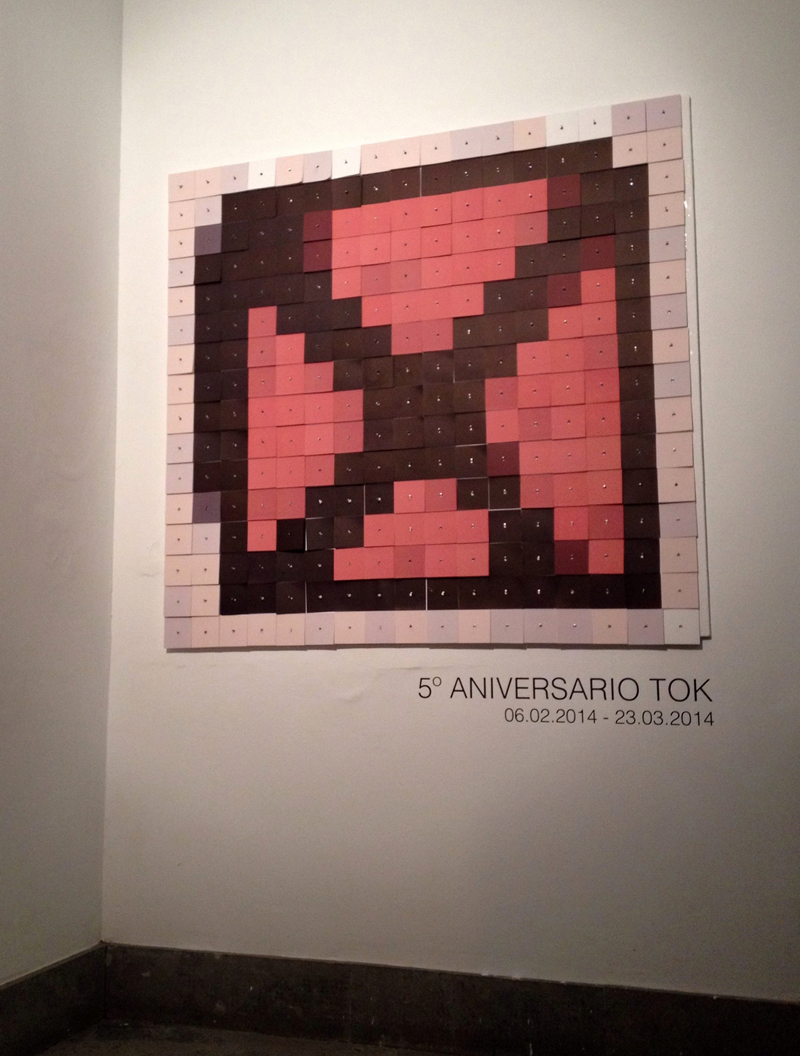 Where are you originally from? What is your background in art or when did you get involved in making work?
I was born in Gran Canaria in the Canary Islands, Spain. I've been drawing since I was a child and simply grew up with art. My artistic and academic formation began with an art and design degree at Universidad de Las Palmas de Gran Canaria where I learned illustration and graphic design.
After a few months working as a freelancer, I decided to get a Fine Arts degree at La Laguna University (Tenerife, Canary Islands), which I finished a few months ago. Currently I am working as a creative and graphic designer for an e-learning company based in Las Palmas de Gran Canaria. I often collaborate as an artist or curator with local museums and galleries including recently at one of the side galleries of the Centro Atlántico de Arte Moderno (CAAM) where I currently have a piece in the exhibition, "Territorio Okupado (TOK)."
You note "illustration, concept and relational art" as prominent in your work. What do you mean by "relational art" with regard to your work?
Well 'relational' is not a new term in contemporary art. When I talk about 'relation,' I mean that I'm really interested in interacting with the public in a plastic way. I'd love to see how people would create work using my artworks. Even if they wanted to sign it as their own, that'd be okay with me. I think we live in a world of interactive, connected and shared experiences. I don't want people to interpret my works. I want people to take part in them, to affect them, and transform them.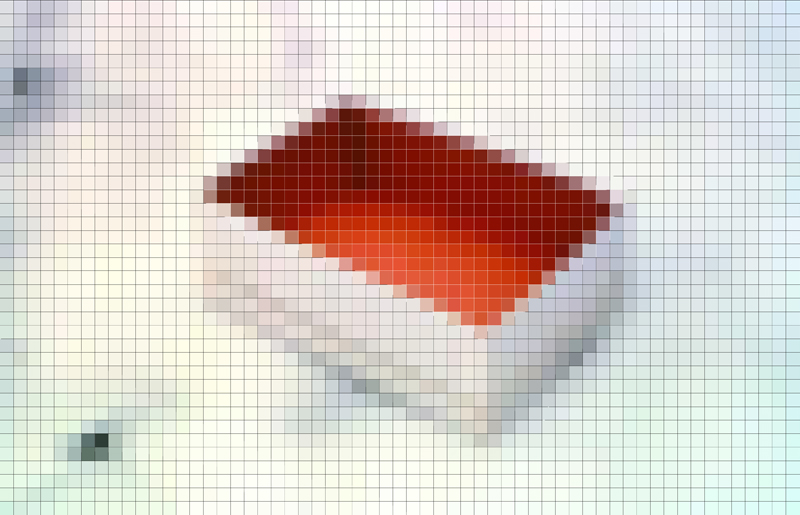 The grid, digital mosaics, or modular compositions are used in many of your pieces. Are there specific reasons for using this device?
That is another manifestation of my work. I've always searched for some order in chaos. Those mosaics, those structures, are my own order within the chaos. However, I don't want to impose the structure, it is more a suggestion of structure to me. Most artworks out there are suggestions, proposals, or approaches. My work is as well.
Can you discuss the Mosaico project? What is the relationship between the chosen subjects and the digital pixilation?
Mosaico project is about mass media images divided into small units that can be manipulated. The idea is to create mosaics that people can interact with or even grab pieces of the artwork and take them home. Right now I only have sketches and digital images, but in the near future, I would like to translate those images into murals. That way people could have their own Mosaico project piece and do whaetver they want with it. I have considered several options such as creating some sort of blog, website or mobile app where people can show what they're doing with those small units of information.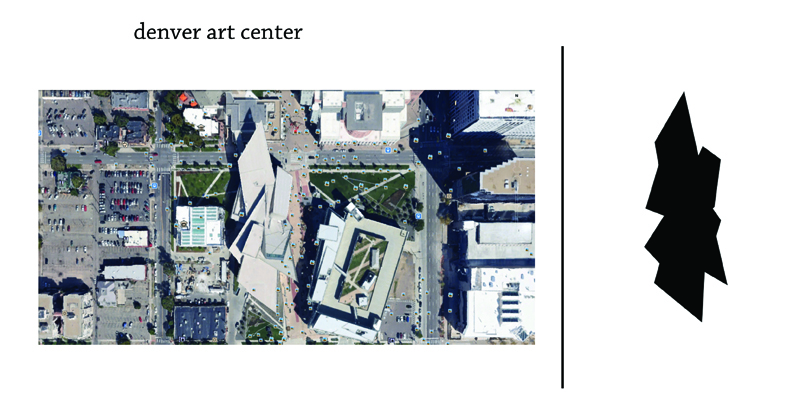 In Requiescat (Art-Lie) and Requiescat 2.0, figures from Google Earth images of the Denver Art Museum and other buildings are isolated and repeated. How did these works come about? Can you discuss the connections between art, architecture, and the 'Google Earth view' in these pieces?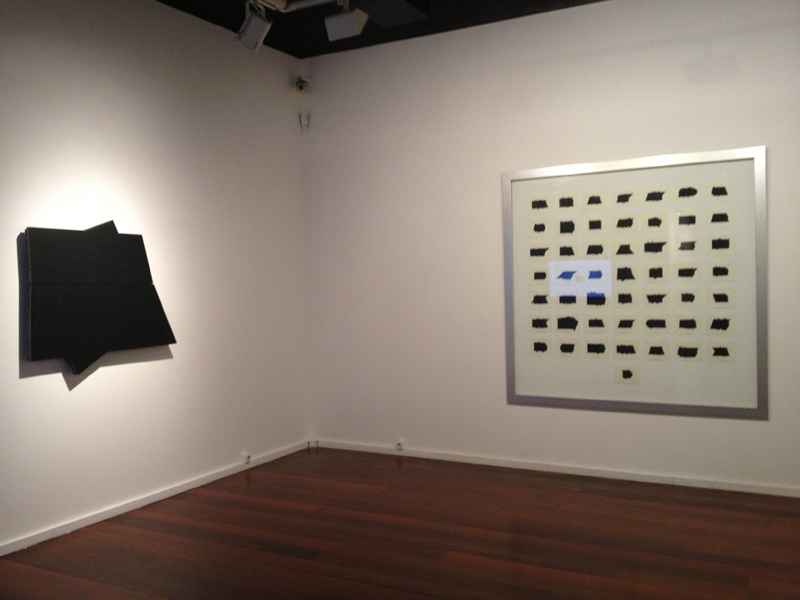 Requiescat is one of my most critical projects. It is based on Ludwig Wittgenstein's Tractatus Logico-philosophicus, and is all about language. All the black geometric shapes imply words, turning significations into images through the opposite process used in concept art of the late 60s and 70s. Right after a group exhibition called  "25 ft. Orientaciones," (2012), curated by Ramón Salas (a local expert in contemporary art history and a professor at La Laguna University), I started a new way of working displayed in Requiescat 2.0. By turning post-modern buildings, such as many actual galleries and museums, into some kind of linguistic code, I am creating a speculative new language. That is why I use Google Earth, to use the aerial images of all these new architectural structures and create a cryptic, unique code.
Your work Goebbels by Eisenstaedt, is a striking BIC pen drawing of a famous historical photograph. What interested you in Eisenstaedt's work? Why that particular photograph?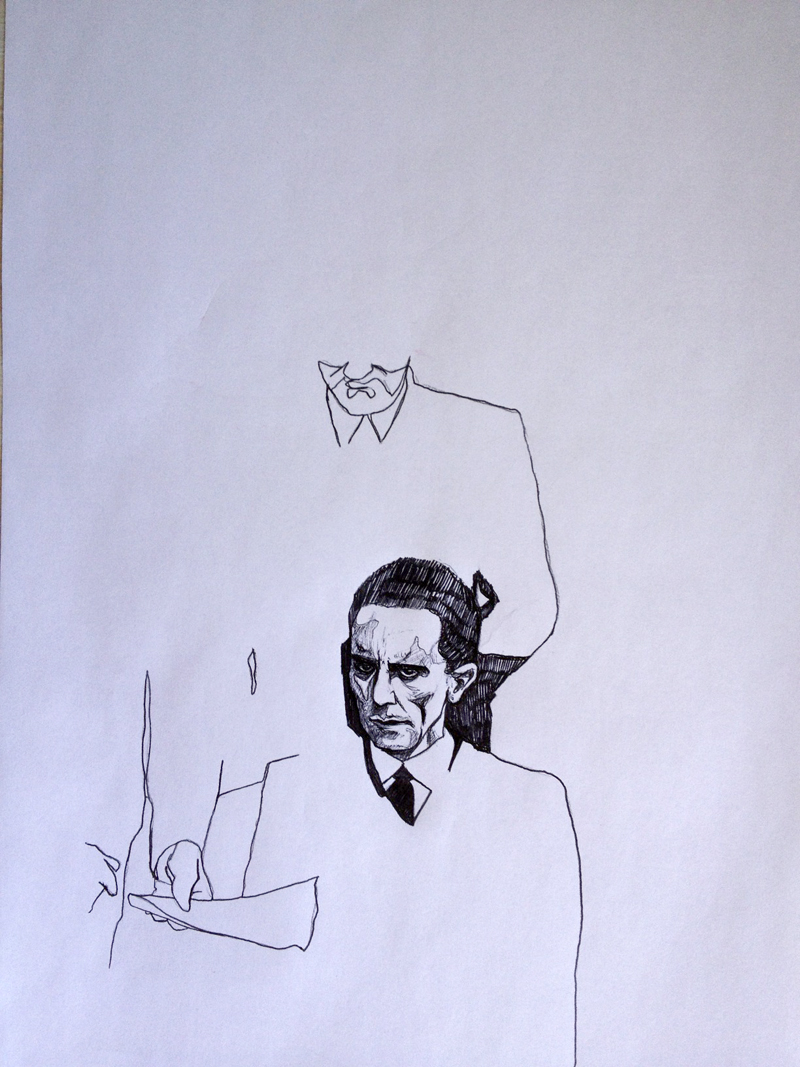 Goebbels by Eisenstaedt is a calling for attention. It is meant as an explicit warning. I wanted to catch the depth and power of the original photograph, but in a sketched and fragmentary state. Maybe we are living in a world that is turning that way––sketchy, partisan and fragmentary. And we're unable to know if it's something good, bad or for whom.
Where have you exhibited your work? What projects are you working on now? 
I have done several collective exhibitions. The first one was back in 2009, while I was studying at Gran Canaria Art School when I was 17. After that, while I lived in Tenerife, I participated in nine exhibitions and as an artist and curator in my last exhibition, "Generación Difusa." Currently I have an artwork in San Antonio ABAD, one of the side galleries of CAAM. It is part of the "Territorio Okupado (TOK)," 5th anniversary group show. I also have various works in progress, such as the Mosaico project and other curatorial work as well as my art blog (currently only available in Spanish): http://rubenolivasant01.blogspot.com.es/.
P.S. I would like to thank to my partner Isabel López, a professional translator, for helping me with this interview. And also Emergent Art Space, for giving me the opportunity to talk about my work.