We are pleased to highlight Sai ▇▇▇ 's 'Trails of Absence' project in the Doh Ayay! exhibition by the Agency of Artists in Exile, recently shown at POUCH in Paris (2/4-2/25, 2023). Sai's moving, immersive installation series powerfully conveys, beyond words, the tragic impact of the military coup and its impact through his family's story.
All images provided by the artist from his project/exhibition archive, click each to enlarge and start gallery view.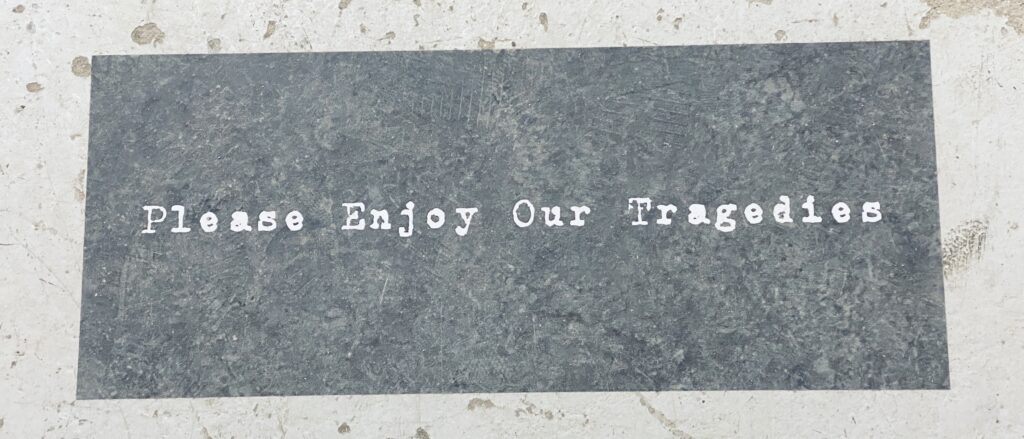 Sai first began the project in 2021, when he risked his life to sneak inside a residential government compound, highly guarded by the military, where his mother was living still after his father's arrest. There he created the photo and video source material for the installation. Wearing his father's National League for Democracy Party uniform, he follows the trails of his presence/absence. Embodying his father as a means of honoring him, Sai radically envisioned his return in various areas inside the compound
ARTIST STATEMENT:
On 1st February 2021 I went into hiding.........for 244 days.
On that day Myanmar was seized in a military coup. The country's de facto Head of State, Aung San Suu Kyi, as well as other senior figures from the National League for Democracy (NLD) and regional government leaders, were arrested in early morning raids. My father, NLD member and one of the 14 Chief Ministers in Myanmar, was one of those taken. After 165 days of my father being interrogated, tortured, and held hostage inside an unknown military compound, on the evening of July 16, 2022, he was transferred to a Covid-infested prison on bogus charges by the regime, facing a sentence of more than 20 years.
The junta had been targeting family members of their perceived enemies; and I knew that if I went to my mother, I would endanger her further. I hid for months, supporting the underground revolutionary movements which were spreading like wildfire throughout the country, but eventually, I had to return to where my mother was being held, under house arrest.
We passed through numerous military checkpoints. If caught with a camera, the risk is arrest, torture and even death. By using the superstitions which dictate a Burmese soldier's life – we hid my camera underneath my wife's underwear in the luggage, knowing that any soldier who touched a woman's underwear would lose their patriarchal divinity and therefore invite death at the frontline. My camera was never discovered.
We managed to sneak inside the compound, surrounded by 20 soldiers. After discussions about our deaths, I documented the symbols of oppression named 'Trails of Absence' which could represent millions of families like ours. While leaving the space for my father in the family portraits, we put the string between us to represent the literal meaning of attachment between our loved one and his absence.
In this series of works, our faces are protected by the clothes of political prisoners, which were sneaked out from the most notorious prisons in Myanmar. The concept of this textile-based and evolved form is rooted in the days of hiding in Myanmar while I reached out to international organizations to advocate for the release of political prisoners including my father. All my requests were dismissed and denied by them and all the foreign embassies I contacted. Till today, nothing can stop the Myanmar military regime from executing political prisoners and their crimes against humanity.
By December 2022— 2,572 people were killed; 16,547 people were arrested; 13,074 were imprisoned and 139 people had been sentenced to death; 479 children were arrested and 261 children were killed. The fabric which protects our identities is woven in the style of a traditional Shan carpet, created from the clothes of political prisoners abducted by the regime.
---
These are the trails of absence.
Can the world still sweep us under the carpet if we become the carpet?
All these crimes against humanity are being swept under where?
---
ABOUT THE ARTIST:
Sai ▇▇▇ is a Burmese multidisciplinary artist. His ongoing work follows the political turmoil that has engulfed Myanmar since the coup of 2021 and specifically the trauma inflicted on his own family, exploring the unjust narrative of the relationship between his father, who has been held as a political prisoner by the Burmese junta since the coup, and his mother, who lives under 24-hour surveillance and is in constant fear for her own safety. Sai himself has been in hiding for almost a year and has received numerous warnings that he is being sought by the junta because of his family's political connections.
Due to the political situation in Myanmar, the name Sai ▇▇▇ is an alias and this bio has been heavily redacted to remove any identifying information.
---
MORE INFORMATION:
Sai and his work are featured in Bolsa Arts digital zine Beyond Resilience, recently published and on sale. The zine includes the work of seven artists from around the world who have faced real threats to their artistic freedom of expression - censorship, persecution, conflict, or forced exile. The artists each show how they go beyond a state of resilience through art, activism, and action.