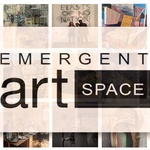 Baishakhi Mehatori
Location:&nbsp&nbsp
West Bengal, India
School:&nbsp&nbsp
Visva Bharati University(I have done BFA & MFA in Painting)
I have always been inspired by the aspect of human behavior which I try to explore in my work. They signify a deeper emotional state of mind and reflect a person's interaction with his or her surrounding and circumstances over a period of time and space. Thus, they go beyond depicting a momentary reaction and become symbolic metaphor for an extended life's journey of the person.
Migration symbolizing the journey of a person's life and circumstances became a central theme of investigation in my work. In my work this journey is depicted through some moments and some steps that reflected the desire for home. Thus every day we set a new target that would bring us one step closer.
In this journey of life, we keep assessing ourselves in each step. Sometimes we are successful in such assessment but sometimes we are not. Often when we come across something new that may be a new idea or a new thought; we try to mold ourselves accordingly. So I have used patterns in my works as metaphors of those ideas and thoughts. We do not know if we will be successful or not but we still carry on. To fit ourselves with the mold or to adhere to circumstances that are often imposed, we continuously shape ourselves accordingly.
I have tried to explore the people's reaction to the current pandemic situation that everyone has been suddenly thrust into and I have tried to express my own experiences and their relationship with the conditions of the outside world. Since the oncoming of the covid pandemic everyone has had to adjust to a new way of life. Many things that were part of our normal lives had become restrictions overnight. I also tried to portray the experiences of being adjusting to this new situation that we were all plunged into. The whole process of work acquired a new format all over the world.
Thus, in my works I depict a moment but through that moment I try to depict a larger journey and the many factors that interplayed to create that moment.
Read about Baishakhi's publication, 'Migrations and Extended Journeys'
Check out Baishakhi's Series, 'Time, Space and Life Journeys'