On September 20th the Emergent Art Space team had the pleasure of attending the opening of South African artist Pebofatso Mokoena's solo exhibition at the Bag Factory in Johannesburg and of meeting him in person.
A fortunate coincidence a few weeks ago allowed me and Ann Wettrich, EAS Director of programs, to attend the opening of Pebofatso's exhibition in Johannesburg, South Africa.
We have known Pebo's work for more than three years, albeit in virtual form, thanks to his presence on the Emergent Art Space website, and the first feeling that stroke me this time, when entering the Bag Factory gallery, was not only the excitement of finally seeing Pebo's work 'in the flesh', its physical imposing presence, but the excitement of witnessing the amazing development of his work in the past few years.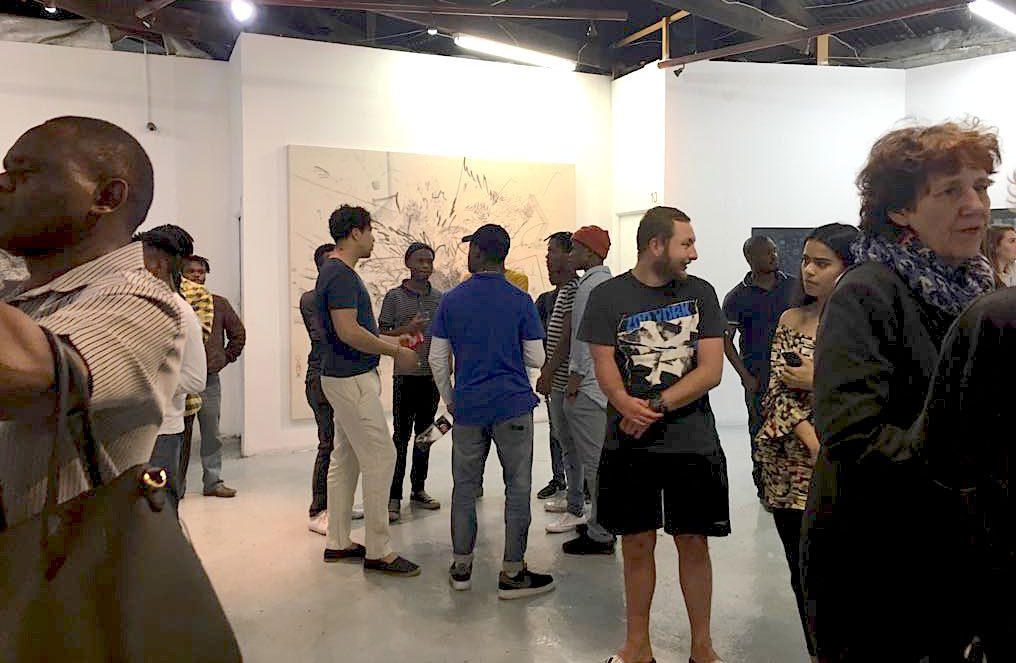 From the medium size  prints he used to make a few years back, he has grown to work on very large canvasses; his long, conscious experimentation with repetitive mark-making has resulted in confident strokes, as much as his search for a personal "honest visual language" has indeed produced a coherent, bold artistic language, rich in symbolic representations of a variety of life experiences and personal struggles, as well as preoccupations with societal aspirations and problems, in particular with the impact that technology is having on communications and people's lives.
"The way I perceive life is a collage of everything that I see and feel. Then I just try to make a body of work that speaks to that…" Pebo wrote for an interview published on this site in October 2017, which concluded, "I'm moving more into abstract. A black artist has to navigate their art through literal space. If they veer into abstract, people don't always buy into it. But abstraction is empowering, it allows me to counteract news after news of trauma. It is not necessarily in line with what I am "supposed" to do as a black artist. But we are making and building our own history. I am now part of the healing project. I draw peace."
Pebo's powerful words are embodied in the powerful new works he showed in this exhibition.
Congratulations for your show, and thank you for your warm welcoming the opening night!