EAS Translations exhibition at Reed College, Portland, Oregon  //  January 20 - February 20, 2015 
translation |transˈlā sh ən; tranz-|
noun
1. the process of translating words or text from one language into another 
• a written or spoken rendering of the meaning of a word, speech, book, or other text, in another language 
• the conversion of something from one form or medium into another
2. formal or technical the process of moving something from one place to another
In the recent Emergent Art Space exhibition Translations, artists were asked to respond to 'translations' as a theme, considering "what is lost in translations and what is found," or, as one of the show's jurors Professor Geraldine Ondrizek explains, "what it means to translate or, perhaps, the impossibility of translating."
Over 500 artists submitted to an international open call, resulting in 42 artists from 20 different countries chosen for the live Translations exhibition at Reed College in Portland, Oregon. The opening, which took place on February 7th, included a reception, a musical performance by one of the exhibition's organizers Maria Maita-Keppeler, as well as a roundtable discussion featuring six of the artists speaking on their works and their relationship to the 'translations' topic.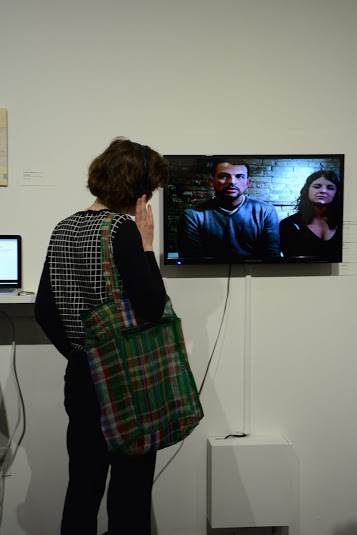 Present at the roundtable discussion, Ondrizek, an art professor at Reed College, described the challenges of selecting from works submitted by artists located around the world. As she explained, "you really have to do some research on who these artists are, how they are thinking and where they are coming from." The exhibition reflects this challenge, displaying works that vary greatly in subject matter: from a synesthesic text-to-color transcription by Lauren Bierly (New York City) or a Unicode-inspired art book by Tom Comitta (Oakland), to works that comment more broadly on migration or cross-cultural experiences.
Many of the strongest works in the show come from artists straddling two cultures, such as the exhibition's first-prize-winning video V.I.S.A by Adrian Regnier (Mexico City) on U.S. immigration policies, and the video of a participatory performance, The Ballad of East and West by Camella DaEun Kim (South Korea and Los Angeles). Both works respond conceptually to cultural borders.
In V.I.S.A the viewer is confronted with repeated "protocollary" questions ––such as "are you a part of clan or a tribe?"––asked by American embassies to anyone applying for a U.S. Visa. The result is intended to make the viewer uncomfortable, amplifying the eerie bureaucratic tone of the questions as well as their tediousness as they repeat over and over.
More uplifting is DaEun Kim's piece, which involves a "performance turned installation" of audience members sitting opposite her, sewing in the lines of Rudyard Kipling's poem The Ballad of East and West.  As DaEun Kim writes, "the resulting installation consists of 8136 holes, 4068 rows and 200 yards of thread, which conceal words on the paper, but act as symbols of connection, of tying together."
Though DaEun Kim and Regnier's pieces differ in content, the two works resonate with the difficulties of overcoming boundaries between cultures, whether socially or politically. They assist in raising one of the exhibition's central questions––can, or how can, art succeed in generating cultural understanding?
While many relationships between works in the show occur as a result of the theme, the best seem accidental. For example, a piece by Eli Coplan (Portland, Oregon), that projects the sound of an hourglass over speakers in the gallery, sits casually next to a sound sculpture by Harsha V Durugadda (New Delhi, India) that interprets audio waves recorded from city streets. Whether through common media, signs, systems, or cultural norms, the exhibition's works display the spirit of 'translations' in unexpected outcomes, finding new moments of shared obstacles and experiences throughout.
Find out more about the EAS Translations exhibition here.