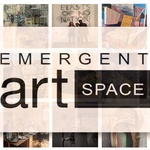 Prithwish Daw
Location:&nbsp&nbsp
Kolkata, India
Damped walls, shared spaces, everyday quarrels, and dingy allies are all part of North Kolkata clichés. North Kolkata, where I have lived for a little more than two decades is my muse. It has been a muse to many artists before; the trams, the river Ganga, the language Bangla,-all these have been explored before, but I want to explore the walls of Kolkata. I am not saying that there is something absolutely authentic about the city walls, but in my opinion the walls are constantly changing. Trying to get accustomed and adapted to the everyday newness.
The city always reminds me of the possibilities of multiple conversations. I try to visualize these conversations and give them a form in my artwork. Our daily life is limited between 'Walls'. Our character, reputation, and representation are visible on our walls, so I have attempted to recreate those walls on my pictorial space. All of our emotions and ego need the help of the walls where we respire.
For example: we make love between walls, spit and piss on them due to laziness, paste posters to promote us, etc. 'Walls' act as very vital elements for the day-to-day life of our human race. So, I continue to live my life with our ever changing walls.
The 'wall' is so significant to our life but we almost forget about its existence. It has provided shelter, provided safety, and has given us room for our lust & sins …… and many more of these sort of things. I grew up in North Kolkata, where almost every house is aged over 80-100 years or so. I'm always fascinated by those aged walls as they decay while time flows by, but standing firm to reveal the history they have left behind.
From the time I started expressing myself through canvas, I have found there is something about these walls echoing through time, although they are monotonous, they are also objectified with diversity. To implement this type of ubiquitous feelings, I started to transform the smooth surface of the canvas into rough, stained, scrubbed like platforms. As time passes by this self-asserting experiment became very fruitful for me. As a matter of fact, I started to discover a mere glance of self-reflection through these paintings.
When I paint i neither think of the outcome nor do I randomly copy the walls I see, instead I rather enjoy the wall that reveals itself into my working platform. These things are not premeditated, they already marked their places long back. For me it's self-discovering, finding the roots of my creativity. 

Take a look at the series 'Cacophony of Calcutta'
Read Deewar Ke Piche' (Behind the Wall) by Prithwish
Take a look at the series 'Kahani Ghar Ghar Ki'