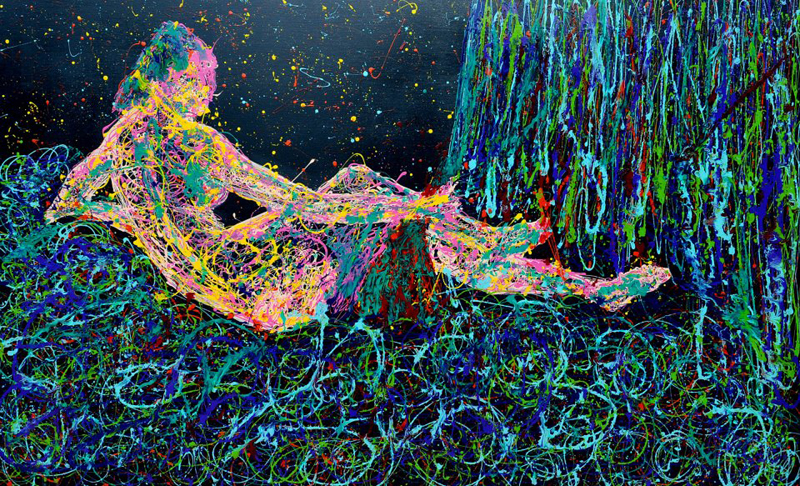 Madeeha Iqbal is an artist living and working in Lahore, Pakistan. She is currently a student at the Institute of Design and Visual Arts at Lahore College for Women University.
Artist Statement: "All the sensations and emotions are directly connected with human beings throughout history. As an art student the images that are the essence of Western art history always inspire me. So I transform those historical images in my visuals and give new sensation to the essence and identity of art history through my technique and metaphors; Colors are my metaphors and these colors are something which represent me."
Your profile says that you grew up in Lahore, Pakistan. What was your relationship to art growing up? When and why did you decide to attend an art and design university?
I belong to KAKAZAI tribe. My father is an engineer and my mother is a housewife and a self taught painter. My mother has a background in painting, this was the prime factor that compelled me towards making art. My parents tried to train me on matters of culture but I wasn't very observant, I argued a lot, and I often had bundles of questions. My agitated nature always pushed me to do new things. I use to draw lots of cartoons in school, but never thought I would become an artist. I was more interested in becoming a doctor, but I didn't know what would come next.
My art education started at Queen Mary College in Lahore, Pakistan in 2005. This was my first proper art educational institute. It emphasized academic art skills and Western art history, which included the Renaissance and the Baroque periods. This institute was a transition in my career between traditional art to contemporary art making. In 2008, I joined the Institute of Design and Visual Arts at Lahore College for Women University.
I chose this institute because it was the best art center for girls in Lahore. Here I practiced new techniques and explored the concept of art (in critical, theoretical, and historical ways) quite rigorously, which also helped to polish my traditional skills and knowledge.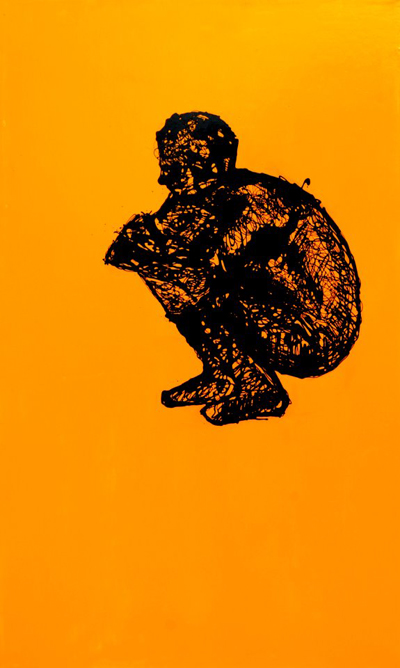 Your work on EAS is primarily created with enamel paint; what draws you to this medium?
Before this series, I already worked in traditional mediums throughout my studies. When I get a chance to do something contemporary I try many mediums, but I really enjoy the spontaneity and fluid movement of enamel paint. I've also worked with watercolors, gouache inks, gold and silver leaf pastels, charcoal and many different surfaces. 
In your artist statement you say, "Colors are my metaphors and these colors are something which represent me." Can you discuss the significance of the colors red and yellow in your work such as in the pieces "Red Mind," "Spinal," and "Thinker?"
VIBGYOR [Violet, Indigo, Blue, Green, Yellow, Orange, Red] are the colors of the rainbow and are present in every human body from left to right, down to up and front to behind. These colors represent me because they are connected to my soul, I use these as metaphor for myself. When I take up the brush, I lose my inner conflicts. Red colors always bring up a healing effect. Golden Yellow is again used randomly while I am lost in my work.
Many of your pieces are based on classic Western paintings such as"Grande Odalisque Enjoying Sensation" based on the 1814 Ingres painting or "Starry Night 2012" based on the famous Vincent Van Gogh painting. Why did you choose to reinterpret these works of art?
This series transforms historically recognized and classical art images. I chose these works because these images are the essence of Western art history. When studying at the Institute of Design and Visual Arts, I learned about western artists and those who are masters of detail. Their works always inspire me, and that's why these images catch my eye.
Why are human "sensations and emotions" throughout history cited as an important part of your art practice?
The profusion of human emotions and gestures and the natural dialogue we constantly engage in with our surroundings captivates me. My art explores unseen territory by giving form to the formless. I vary my technique from gestures and abstract. Non-traditional materials, such as enamel and varnish, which I incorporate in my work, add a fluidity of movement, spontaneity and physical depth to some of my pieces. This balance of juxtaposition and harmony allows me to convey multilayered, dynamic visuals through swirling gestural lines of colors.
What projects are you working on now? What are the next steps in your art practice?
I am working on 'Scribble it Down.' It is an international artistic collaboration. In this project each participant artist gets to work with several artists from different countries around the world on the same digital page. "Scribble It Down" is inspired from the most basic act of several people interacting around a piece of paper and allowing each other to add something new to the work in progress. During this project, the artist is free to paint or draw, can add photographs or any other element that can be made to exist in the digital format. All the while having other artists react to the additions.
I am also working on my final thesis of Professional Calligraphy Diploma at the National College of Arts. I will continue transforming historical images and will do some new works in calligraphy as well. I want to quote Van Gogh here as I feel his words resonate with me:
I can very well do without God both in my life and in my painting, but I cannot, suffering as I am, do without something which is greater than I am, which is my life, the power to create. –Vincent Van Gogh