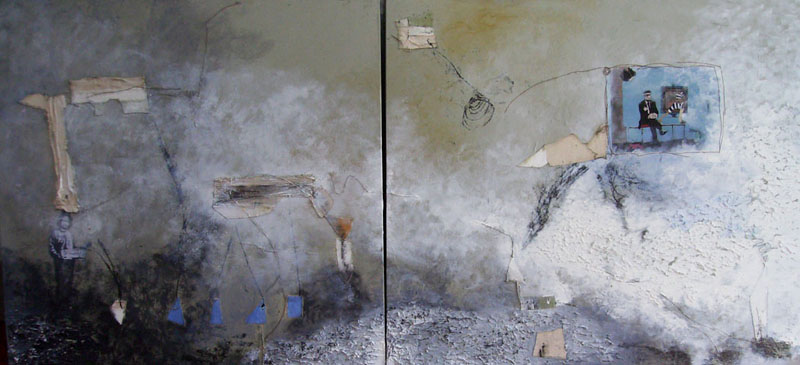 "Lost," Jayeti Bhattacharya
Jayeti Bhattacharya is an artist living and working in Kolkata, India. She is currently pursuing a Master of Fine Arts at the Kala Bhavana (Institute of Fine Arts) in Santiniketan, India. Many of her works include a combination of painting and mixed media, and address overarching themes of 'nature' through painted visual narratives.
Artist Statement: I always wonder about the wonderful yet overpowering nature we are surrounded by. This greatly inspires me. The questions of existence often occur to me. The hugeness and destructiveness of nature influence me to use heavy pigments in my process. We as humans don't know why we exist, so in many ways we are always on a search. I hope for this searching process to lead me to new approaches to my work.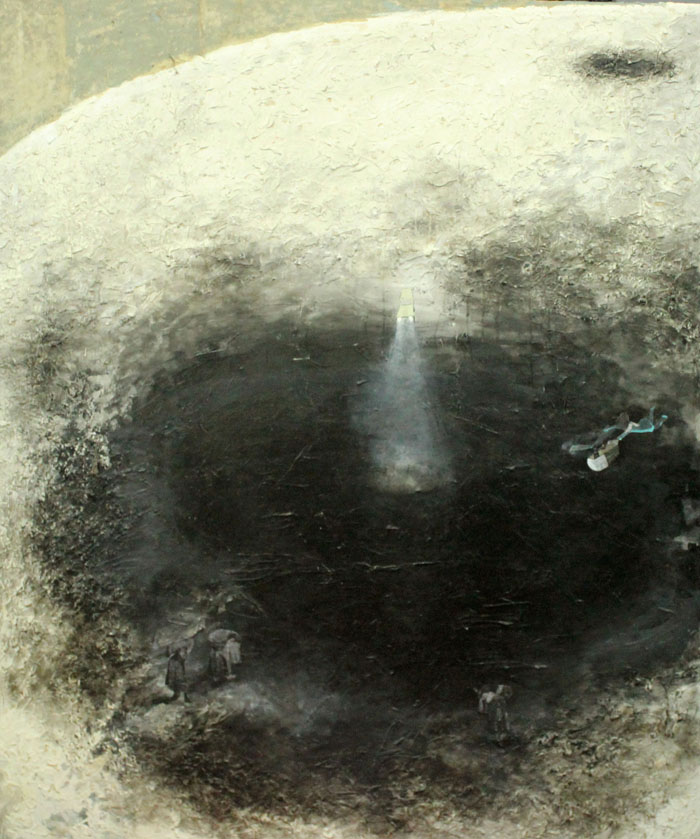 When did you become involved in art growing up?
From childhood I used to draw by myself with paints and crayons in my sketchbook without having had any formal training until I went to art school after high school. Besides the support of my family, it was my teacher, Mr. Samindranath Majumder, who played a very important role in communicating the knowledge and sense of visualization to me and led me to the world of art. From there, I came across various books of art history and contemporary art. I took interdisciplinary classes where classmates and I worked together, had regular discussions, exchanged thoughts and ideas, and lived within art.
Why did you decide to pursue a Masters program in art at the Kala Bhavana (Institute of Fine Arts)? What is your concentration there?
For me, Kala Bhavana is the only art institution in India where one can pursue their creative work freely without the pressure of academics. I enjoyed the individual space in Bhavana a lot because I had never had the opportunity to work in an individual studio. I have a special affection for the place because it has a rich cultural heritage. It belongs to many pioneers of Indian painting including Rabindranath Tagore, Nandalal Bose, Ramkinkar Baiz and Benodbehari Mukhopadhaya. The environment here is very serene, playing an important role in my self-development. Nature plays a vital role in my work and I feel very close to land and nature in Kala Bhavana, Santiniketan.
Many of your pieces are created with a combination of drawing, painting, collaged images and a variety of other materials on canvas. Have you always worked in mixed media? How do you choose your materials?
Majority of my works are mixed media, but I never stick to a definite medium. I begin painting, and as the process continues, I playfully use materials here and there as needed. Truly, I never plan in order to paint. Through the process and time, my associations become a part of my work. I choose materials at the points when I am in between working. I have a tendency of making my work look heavy.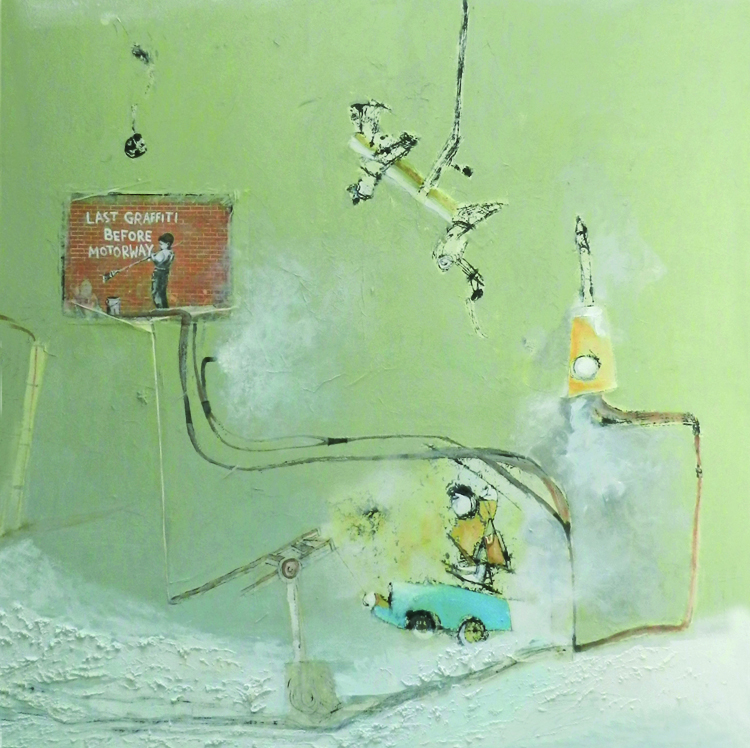 Pieces such as "Lost World" or "Road Not Taken," convey a visual narrative to the viewer. What inspires the narrative elements in your work? For example, how did the piece, "Road Not Taken" come about?
I think the images in my pieces and the titles of my pieces play an important role in creating narratives in my work. The titles of my pieces open them to different interpretations, which help the viewer find new dimensions within the work. One of my favorite artists is Bansksy. I love the way he uses the surrounding environment in his thinking. I used an image of his work in my piece "Road Not Taken." In a way, I thought I was adding his ideas to the land and space I created within the work. In the painting, the car, the person and the rocket, are all in search of existence before Banksy's, Last Graffiti Before Motorway, so I named the piece, "Road Not Taken," as I felt, perhaps I have taken the other road for my search.
Your artist statement emphasizes "overpowering nature," "existence," and "destructiveness." Based on these subjects, what reoccurring images are you most drawn to in your work?
Overpowering nature, existence and destructiveness are themes that come to me over and over again through various forms in my paintings. In my work I often have the sense of creating a huge land with a rough and broken surface, a "heavy" atmosphere. We are so tiny in comparison to nature. It makes me shiver to think of our existence–– as if these overpowering environments will engulf us. I am just in a process of passionate search.
How do you view your role as an artist in Kolkata? What other projects are you working on now?
I feel blessed to be born in the cultural capital of Kolkata, India. Definitely living in such an environment helped me to carve my own way with freedom of thought. Currently, I am continuing to experiment with different mediums. I am in the process of working with natural materials from earth (leaves, land particles, etc.), which I have a close relationship to through the garden of the house I grew up in and the surroundings of the house where I live in Santiniketan. I am using these materials in my paintings in the hope that they will create a new dimension within my work.
Check out more of Jayeti's work HERE