From our contributor 

Elizabeth Mwambulukutu, 2019 Mandela Fellow from Tanzania, hosted by Kansas State University, Kansas, US.

Elizabeth Mwambulukutu is an award-winning photographer and visual arts thought leader from Tanzania. Upon returning to Tanzania as a 2019 Mandela Washington Fellow, she continues championing socio-economic empowerment and inclusion of African youth and women.
She leads, curates and collaborates on creative arts and culture initiatives.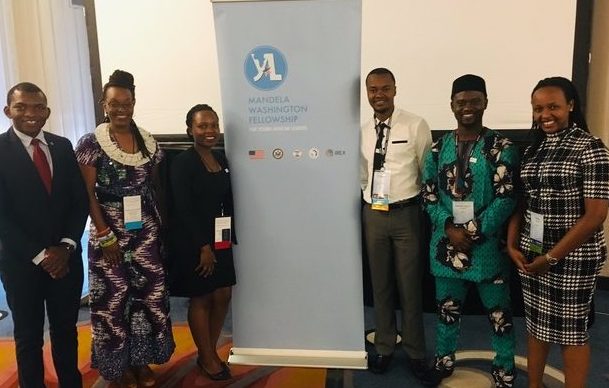 Elizabeth responds here to questions posed by Emergent Art Space, to share her experience as a 2019 Mandela Washington Fellow.
EAS:  Tell us about the Mandela Washington fellowship program and your experiences as a fellow.
The Mandela Washington Fellowship Program commenced in 2014 to empower young African leaders through academic coursework, leadership training, and networking. In 2019, the Fellowship provided 700 outstanding young leaders from Sub-Saharan Africa with the opportunity to hone their skills at some of the top universities in the USA with support for professional development after they return home. I was humbled to be among such a rich pool of talent and source of inspiration. The profile of fellows was diverse--ranging from artists, medical doctors, journalists, innovators, politicians and so forth.  One thing they have in common is resilience in challenging the status quo and looking past the business-as-usual model to solving community problems.
My experience as a 2019 MWF remains indelible in my heart. The fellowship provided a platform to establish a strong support system and network of young African leaders beyond borders by providing a common shared experience and cultivating new leadership muscles.  The program put fellows in situations that strengthened our emotional intelligence, an important leadership trait to maximize one's performance and that of his or her team.
The first step for me was self-awareness in my individual journey, as a young leader looking past the barriers of title and age. Through the fellowship, I got the opportunity to not only discover my strengths, but to utilize them among my peers and apply a strengths-based approach to creating teams, something I continue applying since completing the fellowship. I was also able to develop a deeper understanding of my weaknesses, needs, drives and triggers, as well as the effect of these factors on others who are also leaders. Let's just say this isn't always an easy thing to acknowledge as a young leader.
Being away from my comfort zone, away from my 'headquarters', family and close friends and adjusting to a nine hour time zone difference, required a frequent thermometer not only to regulate the US summer but oneself and how I show up as a leader.
Within our cohort of young African leaders, we were able to form strong bonds, exercise self-regulation, hold each other accountable and step back to assess our collective reasons for failure, as a living and learning community. In doing so, we created an environment of trust. Sharing our personal journeys was an emotional moment for some. Looking back, I am humbled to be welcomed into people's vulnerabilities. It is okay to be vulnerable, as leaders say!
Knowing the emotional makeup of each member of the team allowed an open and a safe community to learn, unlearn and exercise leadership by acknowledging each other's leadership styles. This also enabled me to find my identity within my new community. Socially, we built a learning community with shared values that we developed together. This was a reminder for us on how we show up to exercise leadership.
Curricula & Program Scope 
The Mandela Washington Fellowship consisted of academic sessions and discussions on civic engagement leadership, site visits, leadership in practice, professional networking, community service and community meals. In addition to the fellowship, 70 Mandela Fellows are selected to gain working experience in the USA from leading organization working in non-profits, the private sector and governmental agencies aligned to professional interests and goals.  Some of these included US Department of Agriculture, Catholic Relief Services, Hip Hop for Change Inc., and the International Republican Institute (IRI).
Networking and Building Sustainable Partnerships
The fellowship provided ample time for me to enhance my networking skills through structured networking time, including crafting a winning elevator pitch. Such opportunities gave me confidence and exposure to key tools for igniting collaborations and creating sustainable networks.
What I appreciated was the opportunity to make new contacts with both American civic leaders and young African leaders. For the case of Africans, it is the young African leaders who are driving change within their communities, while using creativity and innovation to solve some of Africa's most pressing problems including climate change, education, health care, arts access, mental health, environmentalist policy, disability inclusion, and so forth.
I mean, Mandela Fellows are so diverse and their life experiences are not captured on the local news! It's high time that we expose such stories of transformation. Some of the new networks I made connections with include the World Economic Forum (WEF) Global Shapers Community within the 2019 Mandela Washington Fellows from Namibia, Nigeria, Rwanda, Tanzania, Uganda and Zambia. We met with the Washington Hub to explore future opportunities for collaboration.  

Activating Knowledge & Insight of African Youth as Community Custodians
With such a diverse group of young African leaders, the sessions were bubbling with an influx of fresh new ideas and solutions, some of which were being implemented and some underway. The fellowship helped me to test my ideas and develop a focus by creating my individual leadership development and action plan. Truly, engaging the knowledge and insights of African youth to address their own community challenges is a testimony to being custodians of community solutions.
Team Building - A Strength-Based Leadership Approach
It is important for every leader to know his/her strengths, needs and values as well as strategies to build effective and productive teams. The fellowship provided an opportunity for me to grasp these among a cohort of Africa's brightest minds. Through group exercises, I was able to put theory into practice and experiment in forming effective teams, i.e. doers, relationship builders, strategic thinkers. With such a diverse cohort, I really appreciated how inter and cross-cultural leadership was so alive within my cohort.
The experience gave me an opportunity to reflect the importance of easing the burden on a leader, i.e. a leader is not a superhero or CEO, and by that I mean, the Chief of Everything. It is important for leaders to apply strengths in tackling everyday challenges in organizations and communities while maintaining the strategic direction.
Amplifying Impact - Storytelling and Public Speaking
As a Mandela Fellow, I was constantly placed in environments that allowed me to elevate my pitch and ignite my talk! I got the platform to contribute my ideas in various discussions and learn from my professors, Mandela fellows and civic leaders. Further, I was selected to co-host on Mandela Day.  I was also interviewed by Voice of America and K State Radio to share my work and my journey as a Mandela Fellow. Public speaking is an important communication skill that every leader needs.
Throughout the fellowship, I created online videos to share some of the highlights from my experience. However due to a fully packed schedule, we were only able to edit a few of these. I collaborated on this with a 2019 Mandela Fellow, Zaharah Namanda from Uganda. See the video playlist here.
Engaging Community Service
Throughout the fellowship, I was able to interact with various communities through volunteering in community service in issues related to food security, poverty alleviation and disability inclusion through organizing a Special Olympics game and coordinating of furniture donations for the local community.

EAS:  How has this experience inspired you or affected you and/or your work as an artist and leader?
As an artist, I am so excited to share my connections with 2019 Mandela Fellows who are working in the area of arts, culture, music and fashion. Please allow me to give a big shout out and introduce to the EAS community some of my peers from the MWF 2019 who are changing the narrative when it comes to Africa's creative economy:
1. Nigeria's Hannah Bassey, an artist and founder of Nana Arts
2. Zambia's Sekayi Fundafunda, founder of MaFashio Co.
3. South Africa's Nompumezo Gubevu, an artist and a curator in the creative and cultural sector
4. Roland Armel Akpouet NDekploman, a cartoonist and graphic designer who is soon launching Leneuf.info, a non-profit media organization that covers social and development issues with cartoons and comics.
5. The Gambia's Ndey Fatou Jabang, the only dance entrepreneur in her country. She is the founder of Flex Fuzion Entertainment, a social enterprise and dance school offering dance classes to promote a healthy lifestyle and the art of dance as a full-time career.
6. Burundi's Hervine Ishimwe, who has created Fashion Ikidede, a company built to address the high unemployment rate in her country.
7. Tanzania's Beatrice Peter Kinyonto, founder of Beacuties, where students learn to crochet and turn their products into profitable business ventures.
8. Namibia's Josaphat Tjiho, an artist who raises youth awareness through theatre performance.
We hope to explore collaborations and I am excited for us to realize these.
EAS: Would you recommend this experience to Emergent Art Space artists?  What advice would you give to interested applicants?  
Without a doubt, for any Africans who are aged 25-35 and are current EAS artists or alumns, this is a unique opportunity for you to realize your leadership potential. Yes, as an artist, you are a leader! Feel free to connect with me via twitter @embulukutu or Instagram @elle_emmanuel or via EAS!